DUI Attorney | DUI Law Firm Phoenix AZ
Under Arizona law, being arrested for DUI (driving under the influence) immediately begins two distinct and separate processes. The first is the criminal courtroom proceeding for DUI involving prosecutors and a judge.This is the courtroom proceeding that ends with a trial. The second is a civil AZMVD hearing which determines whether or not the State can suspend your drivers' license or noIn Arizona, it is illegal to operate or drive a motorized vehicle under the influence of alcohol or drugs. According to Arizona's DUI laws, a person is legally presumed to be too impaired to drive if their blood alcohol concentration (BAC) is .08% or higher. Any driver apprehended driving with a BAC at or above the legal limit will be promptly arrested for DUI.
Arizona DUI law is rather complex, and a DUI can fall within the following categories: aggravated (felony) DUI, extreme DUI, endangerment and/or impaired to the slightest degree.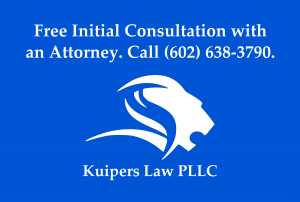 When stopped on suspicion of a DUI in Arizona, if you refuse to take a field sobriety test or blow into a breathalyzer, you can be charged with a DUI. Moreover, if you submit and take a field sobriety test and the test results are under the legal limit of .08%, you can still be arrested. Essentially, police in AZ have wide discretion to charge you with a DUI if you have been drinking at all and they have cause to stop you.
If you have been stopped and arrested for DUI, it is wisest to promptly contact a seasoned DUI attorney with the requisite experience and legal skills to successfully defend you in court and with the AZ MVD. Call Kuipers Law PLLC at 602.638.3790 today for a free consultation with a seasoned criminal attorney.
Arizona Laws Regarding DUI
If you have been arrested or charged with a DUI in Arizona, call our experienced Phoenix criminal defense lawyers at (602) 638-3790 to discuss any case involving the following offenses: