Kuipers Law PLLC located in Arcadia in Phoenix, Arizona
We have represented professional Arizonan clients that include accountants, bookkeepers, government workers, and other financial executives who are in positions of trust of employer or public funds throughout Maricopa County. Most of our clients are decent, honest people who either made simple mistakes, were misidentified as suspects or were arrested based on mistaken evidence and testimony. When facing White Collar criminal charges here in Maricopa County Superior Court, it is essential to retain skilled and dedicated criminal counsel. At Kuipers Law, PLLC, our skilled team of Arizona based and dedicated attorneys, paralegals, and private investigators will leave no stone unturned in our efforts to make things right.
Call for a FREE CONSULTATION TODAY! (602) 638-3790
In Arizona under A.R.S. §13-2310, "Fraudulent Schemes" is committed when a person creates a criminal scheme or artifice to defraud, and knowingly gains any benefit through use of false or fraudulent representations, pretenses, promises or material omissions. At Kuipers Law PLLC, whatever you are accused of, we will strive to defend you with skill, diligence, and determination. When your freedom is on the line, when you are accused of a crime of moral turpitude, you need a skilled attorney on your side. Call 24/7 602-638-3790 or fill out our online contact form for a Free Appointment with an Attorney.
Theft
Embezzlement & Employee Theft
Identity Theft
Aggravated Identity Theft

Forgery
Business Crimes
Writing Bad Checks
Grand Larceny
Computer & Internet Crimes
Unemployment Fraud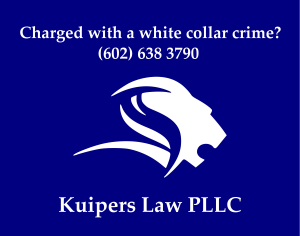 We pride ourselves on our dedication to superior communication with all of our clientele.
We tailor each Arizona case strategy to individual client's preferences and needs.
We work out affordable payment plans for clients unable to pay fees up-front in their entirety.
We expect and demand that our clients to commit themselves to their case and the strategy created together with them based on their individualized situation.
Representation is a two way street, without trust in our professional judgment, we cannot rely on you to follow through on your personalized case strategy, and without our trust in your dedication, it is impossible for us to fight for you.
Our firm is dedicated to a thorough understanding of our client's situations, their legal objectives, and the applicable law allow us to more efficiently accomplish their family law needs, in the courtroom, and out.
We can help you with your case today. Call (602) 638-3790 Now!
Top Quality | Aggressive Representation | Smart Strategies | Low Fees